January 30, 2017
Til Fear Do Us Part (A Grim Awakening #1)
Author:
Michelle Gross
Publisher: Michelle Gross
Release date: February 24, 2016
Goodreads
 |
Amazon US
 |
Amazon UK
My
Rating:
How long does it take to change a person's life from happy to terrifying?
How long was I normal before that part of me was taken away?
How long would I live in fear after that?

After being attacked by something she can't explain as a child, Melanie Rose is left with the ability to see ghosts and it haunts her everyday life.
It only gets worse the night before her eighteenth birthday. Things that shouldn't be real, start appearing before her.
The evil that attacked her as a child is back to finally take her life.
Then he appears, a stranger wearing a black leather jacket.
All the unanswered questions she's had, start to unfold around her.
She soon realizes it's only the beginning.
Melanie must control her fear before Fear claims her.

January 28, 2017
Cecilia Vinesse
Publisher: Little Brown Books
Release date: March 7, 2017
Goodreads
 |
Amazon US
 |
Amazon UK
My Rating:
Sophia has seven days left in Tokyo before she moves back to the States. Seven days to say good-bye to the electric city, her wild best friend, and the boy she's harbored a semi-secret crush on for years. Seven perfect days…until Jamie Foster-Collins moves back to Japan and ruins everything.

Jamie and Sophia have a history of heartbreak, and the last thing Sophia wants is for him to steal her leaving thunder with his stupid arriving thunder. Yet as the week counts down, the relationships she thought were stable begin to explode around her. And Jamie is the one who helps her pick up the pieces. Sophia is forced to admit she may have misjudged Jamie, but can their seven short days of Tokyo adventures end in anything but good-bye?

January 23, 2017
I am thrilled to be part of this beautiful cover reveal for Meg Kassel's debut novel. Thank you, Entangled Teen! The summary has me so excited, and eagerly anticipating it's release.
I give you..
January 20, 2017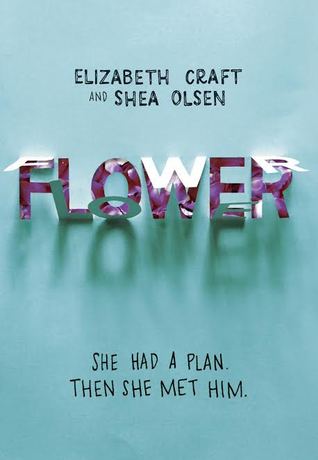 Flower
Author:
Elizabeth Craft
 and
Shea Olsen
Publisher: Harlequin Teen
Release date: January 3, 2017
Goodreads
 |
Amazon US
 |
Amazon UK
My Rating:
These are the things that I've always wanted:

To get the top grades in my class.

To make my grandmother proud.

And most of all, proof that I could succeed where the rest of my family had not: a Stanford acceptance letter, early admission.

My mother and my sister were obsessed with boys and love and sex. So obsessed that they lost sight of their futures, of what they wanted. And in the end, they lost everything.

I'll never let a boy distract me. I promised my grandmother that.

But that was before Tate.

Before the biggest pop star on the planet took an interest in me.

Before private planes and secret dates and lyrics meant for me alone.

There's so much I don't know. Like why he left music. Where he goes when we're not together. What dark past he's hiding. But when we kiss, the future feels far away. And now…I'm not sure what I want.

January 15, 2017
Hello fellow book friends! Today I wanted to chat about the emotions that we book lovers go through. Whether it be a dramatic scene, wtf moments, the unknown fate of a character, darn cliffhangers, or an ending that stays with the reader and keeps the buzz talking within the book community.
January 12, 2017
Coming Up For Air (Hundred Oaks #8)
Author:
Miranda Kenneally
Publisher: Sourcebooks Fire
Release date: July 1, 2017
Goodreads
 |
Amazon US
 |
Amazon UK
My Rating:
Swim. Eat. Shower. School. Snack. Swim. Swim. Swim. Dinner. Homework. Bed. Repeat.

All of Maggie's focus and free time is spent swimming. She's not only striving to earn scholarships—she's training to qualify for the Olympics. It helps that her best friend, Levi, is also on the team and cheers her on. But Levi's already earned an Olympic try out, so she feels even more pressure to succeed. And it's not until Maggie's away on a college visit that she realizes how much of the "typical" high school experience she's missed by being in the pool.

Not one to shy away from a challenge, Maggie decides to squeeze the most out of her senior year. First up? Making out with a guy. And Levi could be the perfect candidate. After all, they already spend a lot of time together. But as Maggie slowly starts to uncover new feelings for Levi, how much is she willing to lose to win?

January 9, 2017
I don't know about you, but I enjoy a good snack while I'm reading. There are times when I am so invested in a good story that I tend to forget the world around me and that includes feeding my tummy. So I like to keep handy little treats right next to me. And since I am trying to eat less sugar these days, I have found quite a few snacks that are both delicious and good for you.
January 6, 2017
Six Years Gone (Gone #1)
Author:
Jessica Gouin
Publisher: Jessica Gouin
Release date: December 1, 2016
Goodreads
 |
Amazon US
 |
Amazon UK
My Rating:
Forget everything you know about happily-ever-afters…

Sawyer, tattooed and rebellious, intended to stay numb until graduation.
Lachlan, gorgeous and charming, was the master of his charmed life.

He had never been more captivated or terrified.
She never saw him coming.

Six weeks was all it took to fall in love.
Then he was gone…

Six years later their lives collide again.

Can forgiveness and faith restore what was broken in those years of absence?
Or will the dark secrets buried inside one another destroy their second chance at love?

What happens when the one who ruined you is woven into your soul?
How can dreams appear to come true only to twist into nightmares?

Though they ache for the happy ending to their fairytale, fate may have something else planned.